Misrepresenting Mácha: The Background
Karel Hynek Mácha was labelled the one inescapable literary phenomenon in Czech literature by Jan Mukařovský in the foreword to the Prague Linguistic Circles seminal collection of studies about Mácha:
The Torso and the Secret of Mácha's Work
. The book featured some of the best critical minds of the time (and well, ever) discussing all possible aspects of Mácha's work.
Torso
can be considered an antidote to the emotional excesses of the 1936 centennial celebrations of Mácha's death.
As the one inescapable phenomenon in Czech literature, Mácha was reviled in literary circles during the first half of the 19th c. and gradually acknowledged as a master during the second half. He had, however, captured the popular imagination when he died at the age of 25 shortly before his wedding day. His masterpiece,
May
, also captured popular imagination.
Well, the first eight verses did. The eight-hundred-plus-line poem tells the story of the robber Vilém's execution for murdering the father he never knew who was also the seducer of Vilém's lover, Jarmila. Those plot points are not remembered, however. Instead, most Czechs know the following eight lines that open the poem proper (I'm ignoring the dedication, although it is important to the other aspect of Mácha's popular image, i.e. Mácha as patriot,), given here in James Naughton's translation, which can be found
here
:
It was late eve - the first in May -
Eve in May - it was love's hour.
The turtle-dove's voice called to love,
Where the pine grove wafting lay.
Love whispered soft the quiet moss;
The blossoming tree lied love's woe,
The nightingale sang love to the rose,
The rose's shown by an odorous sigh.
The selective memory in connection with
May
gave rise to the image of Mácha as the "poet of spring love" and his verse was reduced to the status of captions on postcards exchanged by lovers.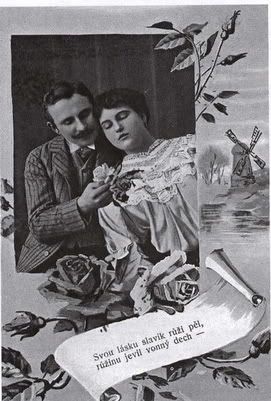 The caption on the postcard is the final two lines of the above quote. And thus the patricide, suicide, execution by Catherine wheel, and existential angst of the original are forgotten and poor Mácha is left toothless and limping.